In the past months, the Covid-19 virus has found its way around the globe. Canada's exposure to the virus has had a heavy impact on the domestic economy, specifically in the Tourism and Accommodation and Food Services sectors. British Columbia's two largest cities, Vancouver and Victoria, are major tourist centers and have certainly been affected by the global pandemic.
Travel Bans
Covid-19's rapid outbreak has resulted in a number of countries imposing travel bans for non-essential travel. The Government of British Columbia has ordered all international travelers returning to the province to present a 14-day self-isolation plan before they can legally leave customs. Those who do not have a plan or lack details to their plan will be brought to an accommodation site to fully develop their proposal. The travelers returning to the province will not be permitted to leave until they have a thorough plan. As a result of the Covid-19 outbreak, for 2020, Canada expects to see a 25.8% decline in in-bound international travel, which is nearly double the decline in in-bound international travel that resulted from the 2003 outbreak of severe acute respiratory syndrome (SARS). As a result, the hospitality and tourism industries are expected to see a significant decline in revenues, particularly over the spring and summer months.
B.C.'s Response to the Pandemic
On March 21, B.C. Health Officer Dr. Bonnie Henry ordered all spas, salons, and personal services to close in order to further promote social-distancing.
On April 8, all provincial parks closed in order to stop the spread of the virus.
On April 8, B.C. Premier John Horgan made it mandatory to all international travelers returning to the province to propose a self-isolation plan upon arrival.
Impacted Industries
Not only is in-bound tourism on a heavy decline, but so is domestic traffic trends. The mobility trend in Canada with regards to the Retail and Recreation industry has decreased by 59% compared to the baseline. Furthermore, Canada's mobility trend for the Grocery & Pharmacy industry fell by 35% compared to the baseline. These statistics are directly related to the restrictions in place to mitigate the spread of the virus, such as social-distancing. Social-distancing will certainly affect the demand in the Accommodation and Food Services sector; a dominant work industry in Victoria and Vancouver.
Per the Conference Board of Canada, cities with high employment in this sector, ranked by percentage share are as follows: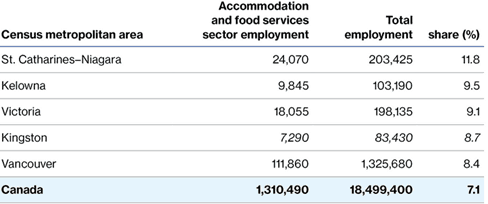 Victoria and Vancouver are expected to have high unemployment rates within the sector as this sector hires 9.1% and 8.4% of the workforce. If the pandemic worsens, this sector could have 1.3 million unemployed workers across Canada, which will depend largely on the policies and regulations set out by the Provincial and Federal Government. Currently, Quebec and Ontario are the only provinces that have ordered all non-essential businesses to temporarily close. If British Columbia follows suit, there will be a spike in unemployment as this sector is unfortunately not considered an essential service.
The Accommodation and Food Services sector has a HIGH exposure due to trade, supply chains, and business environment risks due to the virus according to IBISWorld while Canadian industry as a whole has MEDIUM exposure. According to S&P Global Market Intelligence, many companies have been restructuring their supply chains in order to rely less heavily on China. The outbreak of this virus gives businesses further confirmation of why it is important to geographically diversify supply chains and mitigate exposure risk.
Similar industry sectors, such as Arts, Entertainment, and Recreation and Personal Services also have HIGH exposure. Other industries with this level of exposure are:
Healthcare and Social Assistance
Manufacturing
Mining
Wholesale Trade
Federal and Provincial Support
The Federal Government along with each province and territory have been very responsive to the needs of Canadians and the economy. They have collectively created an extensive emergency response plan which includes support for individuals, businesses, and industries. The following are some of the measures that have been implemented as part of the emergency response plan:
Extra time to file income taxes: The filing due date for 2019 income tax returns for individuals is now June 1, 2020.
Canada Emergency Response Benefit (CERB): The Federal Government will provide eligible individuals with a taxable benefit of $2,000 a month for 4 months if they have lost their income due to Covid-19.
Canada Emergency Wage Subsidy (CEWS): This subsidy will cover 75% of an employee's wage, up to $847 per week. This subsidy is targeting businesses of all sizes and sectors who have had a decrease in gross revenues of at least 15% in March and 30% in April and May.
B.C. Emergency Benefit for Workers: The Provincial Government will provide eligible individuals with a one-time $1,000 payment if their ability to work has been affected by Covid-19.
To see Canada's Covid-19 Economic Response Plan in full, please visit: https://www.canada.ca/en/department-finance/economic-response-plan.html
To see B.C.'s Covid-19 Economic Response Plan in full, please visit: https://www2.gov.bc.ca/gov/content/employment-business/covid-19-financial-supports