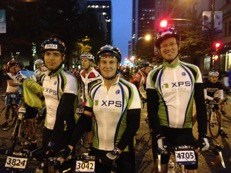 While the XPS team gets plenty of cranial conditioning, we also enjoy our physical pursuits!
As a challenge for 2013, Mark, Josh, and Derek initiated the "XPS Cycling Team", designed a team jersey, and signed up for the Whistler Gran Fondo; a 122 km bike ride from downtown Vancouver to Whistler Village.  Training included a 16-week preparation program that included 3 to 5-hour group rides on the weekends, and a few individual rides during the week, for total training distances of 120 to 200 km per week.
The team joined 6,000 other riders at Burrard and Georgia for the 7 a.m. start.  It was a cool September morning as this enormous group of riders made their way towards Stanley Park, led by police escort over the majestic 1.8 km Lion's Gate suspension bridge that serves as a gateway to Vancouver Harbour.  The scenic start was quickly replaced by the long, steady climb up Taylor Way towards Horseshoe Bay.  Add to this a heavy downpour of rain and we knew we were in for some suffering before the day was done.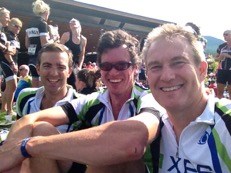 After 65 km of rolling terrain along the Sea to Sky highway, we were past the halfway mark and back at sea level in Squamish.  On the bright side, we were greeted by clearing skies and reviving hopes of dry jerseys and socks once more.  The bad news was that we had nearly continuous uphill climbing ahead of us for the remainder of the ride.  The first climb out of Squamish was one of the steepest and seemed relentless as we climbed non-stop for about 7 km in distance and 400 metres of elevation gain.
We felt like professional cyclists as we sped into Whistler Village, with cheering onlookers alongside of the road, and crowds lining the gates by the decorated finish line.  From the Olympic Park stadium, we could hear the band playing for the post-ride celebrations.  After some rehydration and nutrition, we enjoyed the complimentary massages before following the music to the beer garden and barbeque area that was filling with weary but satisfied riders, wearing big smiles on their faces, and with ride stories to tell.